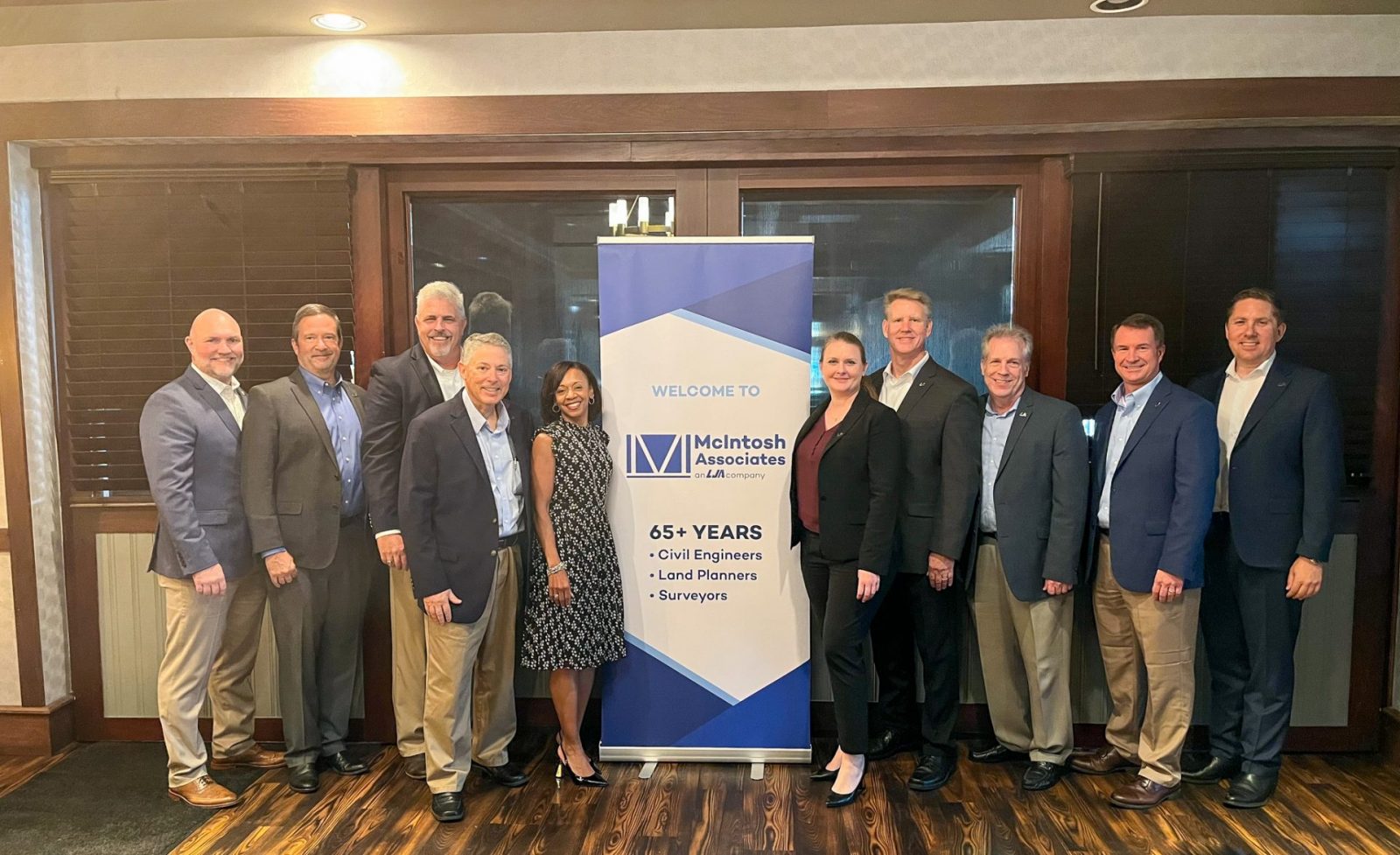 Donald W. McIntosh Associates Joins Forces with LJA
August 25, 2023
Houston, TX – Donald W. McIntosh Associates, Inc. (McIntosh Associates), a prominent Florida-based firm, has officially become a part of LJA. This union brings together two exceptional organizations that share similar values, cultures and a commitment to delivering top-notch professional engineering and land development services.
McIntosh Associates, headquartered in Winter Park, Florida, has been a trusted name in the industry for 66 years. Renowned for its expertise in civil engineering, land planning, and surveying services. With a dedicated team of 56 employees, McIntosh has consistently demonstrated excellence in its field, establishing a legacy of integrity and reliability.
LJA, a nationally recognized engineering consultancy in business for over 50 years, has a workforce of more than 1600 employees. Additionally, the company offers comprehensive services across both the public and private sectors. Employee-owned and headquartered in Houston, Texas, LJA has made significant strides in expanding its footprint across Florida.
"We are excited to welcome McIntosh Associates to the LJA family," said James Ross, CEO of LJA. "This partnership marks a significant milestone for us as we continue to strengthen our presence in Florida and enhance our capabilities to better serve our clients."
Likewise, McIntosh Associate's president, Jeff Newton, PE, expressed enthusiasm about the merger. Newton stated, "Joining forces with LJA is a natural progression for us. Our shared vision and complementary strengths will bring about a new era of growth, innovation, and success. Furthermore, we look forward to leveraging this partnership to deliver unparalleled value to our clients. We also look forward to providing our employees with rewarding opportunities for professional development."
##
For More Information Contact:
Donya Edler
Marketing and Communications Director
dedler@lja.com
About Donald W. McIntosh Associates, Inc.
Donald W. McIntosh Associates, Inc. is a Central Florida engineering, planning, and surveying firm that is known in the industry for excellence, integrity, and consistent service. Our highly experienced team of professionals is focused on assisting our clients in navigating the often-tempestuous seas of the regulatory approval process. From pre-acquisition to project completion, we approach every project with the same level of skill and care as if it were our own. We are committed to perform to meet our clients' highest expectations.
www.dwma.com/
About LJA
LJA is an employee-owned, full-service, comprehensive multi-disciplinary consulting firm. With offices across the nation, we offer one-source, one-stop reliability for all of our clients, when and where they need us. We operate within eight comprehensive sectors, enabling us to effortlessly assemble successful project teams. These teams consist of but are not limited to civil, structural, and electrical engineers, along with hydrologists, GIS designers, and surveyors.